SLIM ALUMINIUM
AT THE HEART OF ALUMINIUM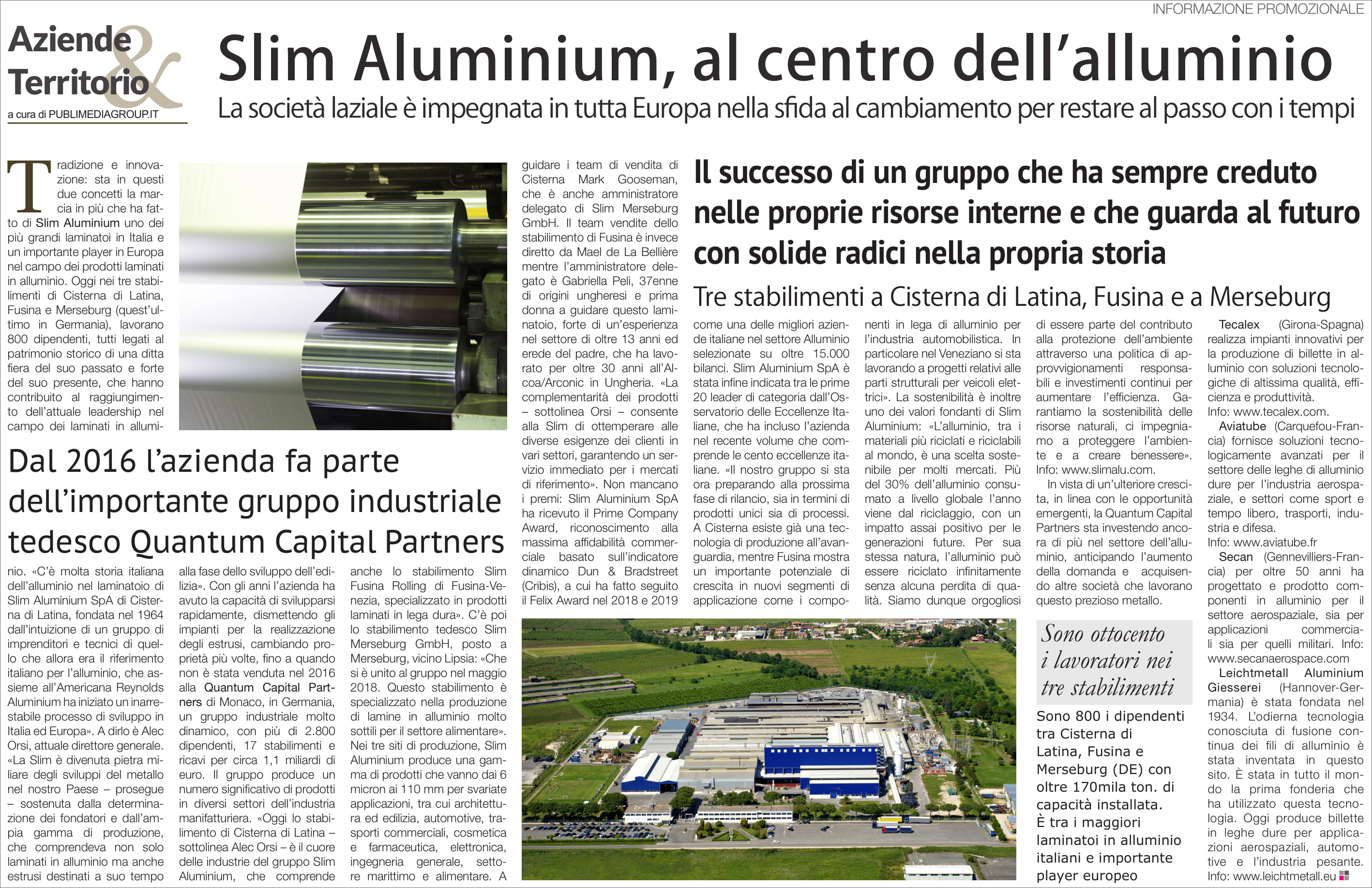 SLIM ALUMINIUM
AT THE HEART OF ALUMINIUM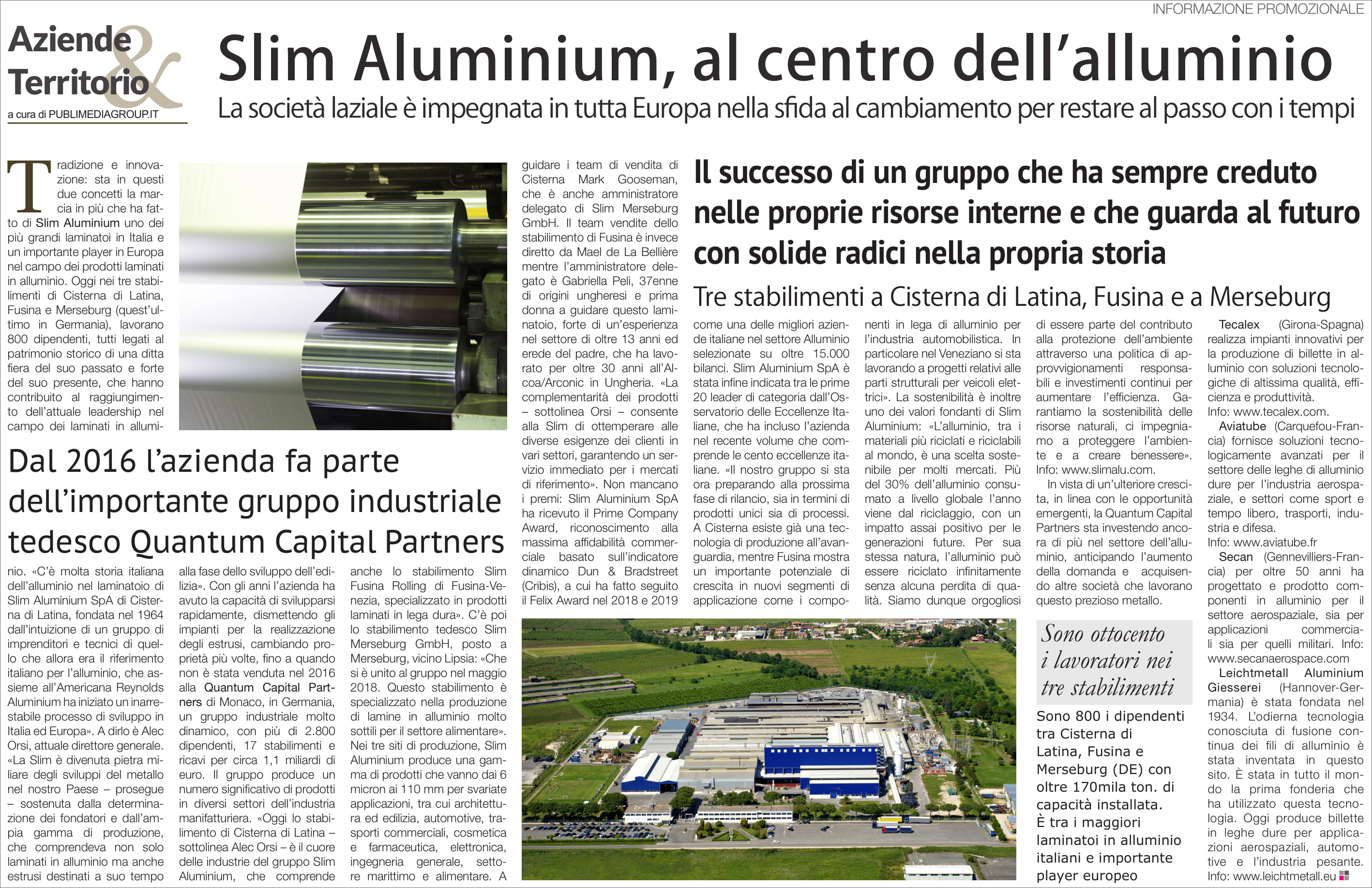 Slim Aluminium, at the heart of aluminium
Lazio-based company  keen on moving with the times in Europe-wide change challenge
The success of a group with a strong belief in its internal resources facing the future with deep roots in its history
Three plants in Cisterna di Latina, Fusina and Merseburg and part since 2016 of the major German industrial holding company, Quantum Capital Partners.
To follow, an extract of the article published in "Il Sole 24 Ore"
"Slim Aluminium Cisterna's mills embody much of the Italian history of aluminium. It was founded in 1964 by a bunch of the best aluminium entrepreneurs and technicians at that time in Italy and started in joint venture with the US Reynolds Aluminium Ltd. a relentless expansion process in Italy and all over Europe" says the current general manager Alec Orsi.
"Slim was able to become a milestone for metal working in our country thanks to its founders' tenacity and the wide range of products including then both rolled and extruded products, the latter being largely used in the building sector"
Along the years, the company kept growing despite its withdrawing from extrusion and facing several ownerships till 2016 when it was last taken over by Quantum Capital Partners, a dynamic group based in Munich/Germany, with more than 2.800 employees, 17 plants and 1,1 billion euros revenue and producing a large range of manufactured articles.
"The plant of Cisterna di Latina represents today – points up Alec Orsi – the core of Slim Aluminium group which also includes Slim Fusina Rolling plant, located near Venice and specialized in hard-alloy rolling"
The German plant of Slim Merseburg, close to Leipzig, producing thin foil for the food sector last joined the group in May 2018.
Slim Aluminium can produce in its three sites a large number of materials ranging from 6my up to 110 mm. for multiple end uses such as building, automotive, commercial transports, cosmetics and pharma, electronics and general engineering, marine and food industry.
Mark Gooseman, managing director at Slim Merseburg, is also leading Cisterna's sales team; Mael de la Bellière is steering sales at Slim Fusina where the managing director is the 37 year-old, Hungarian -origin, Gabriella Peli, the first woman to lead this plant, with more than 13years experience in this sector she inherited from his father who worked for more than 30 years at Alcoa/Arconic Hungary.
"The complementarity of our products – underlines Mr .Orsi – allows Slim to respond to our customers' needs and provide them with an excellent service for all reference markets"
As a token of this, Slim Aluminium SpA was awarded the Prime Company Award for its high commercial reliability based on Dun&Bradstreet (Cribis) dynamic indicator as well as the Felix Award both in 2018 and 2019 as one of the best Italian companies in aluminium industry out of more than 15.000 financial statements examined.
Slim Aluminium was moreover appointed by the Italian Excellence Agency as one of the 20 sector leader companies by the Italian Excellence Agency that also mentioned Slim in their latest book within the 100 Italian industry top-representatives.
"Our group is now making ready for the new forthcoming expansion initiatives both in terms of products and processes. Cisterna already owns advanced production technologies whereas Fusina is showing a remarkable growth potential in new market segments such as aluminium-alloy components for the automotive industry besides various projects on structural parts for electric vehicles"
Slim Aluminium is also making sustainability one of its basic values : " Aluminium being among the most recycled and recyclable materials on earth, is a sustainable choice for several markets. More than 30% of the aluminium globally used every year comes from recycling with a largely positive impact on future generations. Aluminium owns the natural peculiarity of being recycled with no quality decay. We are therefore proud of playing an active role in environment protection through a responsible supply policy and continuous investments in process efficiency. We guarantee the sustainability of natural resources besides being committed to protect the environment and create well-being".
Click here to read the article: